Online Store for Robotics and Electronics Components
Techshopbd is one sort of your constant helping hand on whom you can rely, with no doubt, for any technological support and related assistance. To be more precise, it is an online retail store that sells the electronic bits and pieces needed for a competent electronic project. Our ultimate vision is to release the tension, of the enthusiastic researchers, about the availability of the necessary devices and make electronics reach to the limit of the average persons.
However, our endeavors are not confined within selling and reaching electronics only, we also offer essential tutorials on diversified projects and according to the demand of the researchers this sector is updated time to time. We dream of building up skilled individuals who will flourish our country through the innovation of unforeseen electronic devices and also of acquainting people with the wonderful world of embedded electronics.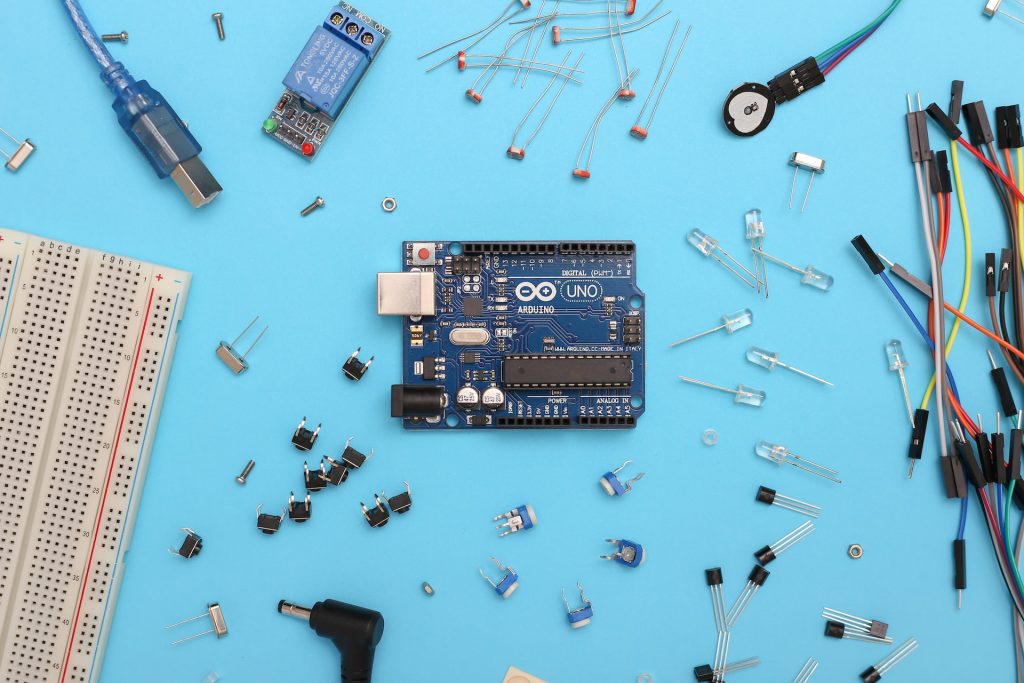 What Services and Products does TechShop Offer?
How to Make a Line Follower Robot | Techshop BD
In this tutorial you will learn how to make a line follower robot. It's an automated guided vehicle, which follow a visual line embedded on the floor. To do this we're using Microcontroller, Motor Driver, Breadboard , Battery, Crystal Oscillator, Ceramic Capacitor, Jumper Wire, Ball Caster, Chassis etc. This line follower robot will follow the black line.
Best Door Lock System in Bangladesh | Digital Door Lock Review With Installation
Smart Electric Glass Door Lock বা এক্সেস কন্ট্রোল দ্বারা অফিস-আদালত কিংবা বাসার গ্লাসের ডোরগুলোকে অটোলক করার ব্যবস্থা রয়েছে। এই এক্সেস কন্ট্রোলে রয়েছে RFID কার্ড এবং পাসওয়ার্ড ব্যবস্থা। RFID কার্ড ১২৫ কিলো হার্জ ফ্রিকুয়েন্সি সাপোর্ট করে। এই কার্ড এড করার ক্ষেত্রে অথরিটি পাসওয়ার্ড ব্যবহার করতে হবে। কার্ড হারিয়ে গেলেও তার নাম্বার এক্সেস কন্ট্রোল থেকে মুছে দেওয়া যাবে। প্রতিটি কার্য সঠিক এবং ভুলের জন্য রয়েছে ভয়েস মেসেজ।
সুইচ কেন? লাইট-ফ্যান অন অফ হবে মোবাইল অ্যাপেই । Sonoff 4CH Pro R3 - 4 Channel WiFi Smart Switch
Home Automation বর্তমানে বহুল ব্যবহৃত একটি টেকনোলজি। বাসার লাইট ফ্যান সহ বিভিন্ন ইলেকট্রনিক্স ডিভাইস ইন্টারনেটের সাথে যুক্ত করে রিমোট, মোবাইল অ্যাপ, কিংবা ভয়েস কমান্ডের মাধ্যমে নিয়ন্ত্রণ করা মুহূর্তের ব্যাপার। Sonoff বাজারে এমনই একটি Smart Switch ডিভাইস এনেছে যেটি ব্যবহার করে খুব সহজেই রিমোট কিংবা মোবাইল অ্যাপের মাধ্যমে লাইট ফ্যান নিয়ন্ত্রণ করা যায়। ডিভাইসটি SONOFF Wi-Fi Smart Switch নামে বেশি পরিচিতি, এর মডেল Sonoff 4CH Pro R3. শক্তিশালী ওয়াইফাই নেটওয়ার্ক সিস্টেম, ভয়েস কনট্রোল প্রযুক্তি, এবং আধুনিক ফিচার সহ এই 4 Channel WiFi Smart Switch এর Review & Setup দেখাব এই ভিডিওতে।
360 Nano Bot Rev2 | Techshop BD
রোবট প্রেমিদের জন্য টেকশপ নিয়ে এলো "360 Nano BOT-Rev 2", যা মূলত একটি মাল্টিপারপাস প্রোগ্রামেবল রোবট। যারা রোবটের প্রোগ্রামিং শিখছেন এবং ভালো একটি হার্ডওয়্যার খুজছেন তাদের জন্য এই রোবটটি সবচেয়ে দরকারি একটি প্লাটফর্ম। কোন রকম সার্কিট কানেকশন ও চ্যাসিস বানানোর ঝামেলা ছাড়াই চার ধরণের বেসিক রোবট বানানো শিখতে পারবেন এর মাধ্যমে।
How to use Wi-Fi Smart Switch | Control Appliances with Google Home
In this video, you're going to learn how to use wi-fi smart switch and how to control appliances with google home from anywhere in the world. Sonoff is a brand of Wi-Fi switches that can be used for controlling lights, pumps, fans, etc. This smart gadget allows you to turn any device on and off.
Xiaomi Yeelight Smart LED Bulb Review in Bangladesh
স্মার্ট হোমের জন্য IOT Smart Device এর চাহিদা বিশ্বব্যাপী। নিজের বাড়িকে স্মার্ট হোমে রূপান্তর করার চাহিদার কথা মাথায় রেখে টেকশপবিডি নিয়ে এলো সহজে ব্যবহারযোগ্য ও সাশ্রয়ী মূল্যের বিশ্বখ্যাত ব্র্যান্ড Xiaomi এর তৈরি এই Smart LED Bulb. Android ও Iphone দিয়ে App এর মাধ্যমে একে ইচ্ছামত নিয়ন্ত্রণ করা যাবে। সাথে থাকছে Voice Control ও বিভিন্ন Automated ফিচার।
Automatic PIR Motion Sensor Switch Review in Bangladesh | Automatic Light On Off System
ডিভাইসটি এর সামনে দিয়ে চলাচল করা যেকোন ধরণের জীবজন্তুর (যেমন: মানুষ) চলাচল সনাক্ত করতে পারে। পাশাপাশি এটি আলো এবং অন্ধকারও সনাক্ত করতে পারে। এই সনাক্তকরণের (অন্ধকারে চলাচল) উপর নির্ভর করে ডিভাইসটি এর সাথে সংযোগ দেওয়া ইলেকট্রিক ডিভাইসটিকে বন্ধ বা চালু করে থাকে। ডিভাইসটির এই চমকপ্রদ বৈশিষ্ট্য ব্যবহার করে সিঁড়িঘর, বারান্দা বা টয়লেটের মত জায়গার লাইট গুলোকে নিয়ন্ত্রন করা যেতে পারে। যা বিদ্যুতের অপচয় রোধ করবে অনেকাংশে। ডিভাসটির আরেকটি বড় সুবিধা হলো এটিকে একই সাথে অটোমেটিক সুইচের পাশাপাশি ম্যানুয়াল সুইচ হিসাবেও ব্যবহার করা যাবে।
This tutorial shows how to make a basic line follower robot very easily using the "Easy LFR-" from techshopbd. This robot controller lets the user build their first line follower robot without writing any code. Moreover, the wiring is very minimal and the controller is compatible with any chassis.
Companies Who Trust TechShop

BUET

ACI Limited

Advance Technology Consortium

Akij Group

American International University

AUST

BAIUST

Bangladesh Air Force

Bashundha Group

Bogura Polytechnic Institute

BRAC University

Business Automation Ltd.

Canadian University Bangladesh

Chittagong Independent University

CIMMYT BANGLADESH

Crystal Martin Apparel Bangladesh Ltd.

Daffodil Computer

Daffodil International University

Great & Smart Technology Ltd.

HSTU

Independent University

Islamic University of Technology

Khulna University

Microtech Interactive Ltd.

North South University

PRAN RFL Group

Product Plus Solutions Ltd.

Renata Limited

RUET

Southeast University

Sysnet Solutions Bangladesh Ltd.

The Bengal Glass Works Ltd.

United International University

University of Dhaka

WIST Bangladesh Ltd.